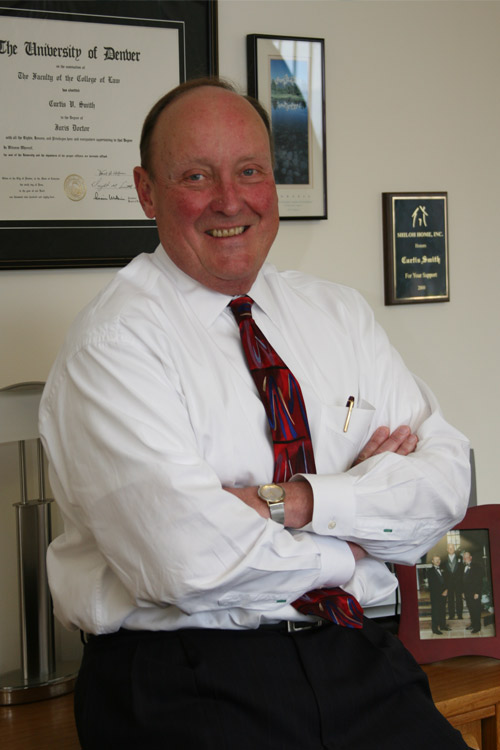 Curtis V. Smith
Emphasized family law and criminal defense law
I grew up on a farm in northeast South Dakota with my older brother and two sisters, one older and one younger. After graduation from high school in 1966, I attended South Dakota State University, graduating with a BA in Sociology in 1970. My wife and I were married one week later.
Later in 1970 I took a position with the family feeding programs of the US Department of Agriculture and we moved to Chicago. In 1976 I accepted a transfer to Denver. In 1980 I entered the University of Denver School of Law (night division) and continued to work full time. I held a variety of positions during my years with the federal government, including Director of Civil Rights and Equal Employment Opportunity and Director of Personnel.
I graduated from law school in 1984, and in 1985 I "hung out my shingle" and began the practice of law. I have always officed in the same location. My practice has always emphasized family law and criminal defense law. People going through divorce, or in trouble with the law, are experiencing extraordinarily difficult times in their lives and I enjoy helping them make it through those times.
My wife and I have a son in his 30's and 1 grandson who are our pride and joy, and by far the biggest "growth opportunity" of our lives. I am a member of the Colorado Bar Association and the First Judicial District Bar Association (Jefferson & Gilpin Counties). I serve as a Director on the Boards of Shiloh Home (providing group homes for boys), Mackintosh Academy, and the Mental Health Center of Denver. My wife and I also mentor children; over the years we have mentored 30 or more children.
If you choose to retain our firm, I promise you that we will do everything in our power to represent you effectively.
EDUCATION:
South Dakota State University, BA Sociology, 1970 University of Denver, College of Law, JD 1984
EXPERIENCE:
Food & Nutrition Service, USDA 1970-1984
Program Specialist
Training Officer
Director of Equal Employment Opportunity & Civil Rights
Director of Personnel
Private practice of law, 1984 – present
Emphasis in family law, criminal defense
PROFESSIONAL MEMBERSHIPS:
Colorado Bar Association
First Judicial District Bar Association
VOLUNTEER ACTIVITIES PRESENT:
Board of Directors of the Mental Health Center of Denver
Board of Directors of Shiloh Home, Inc.
Board of Trustees of Mackintosh Academy
VOLUNTEER ACTIVITIES PAST:
Board of Directors of First Judicial Bar Association
Board of Directors of the Credit Union of the Rockies
Board of Directors of the Brain Care Foundation
Mentor with Save Our Youth
PERSONAL INTERESTS:
Spending time with my wife, son, and grandson; hiking; reading; mentoring youth; children's issues; movies