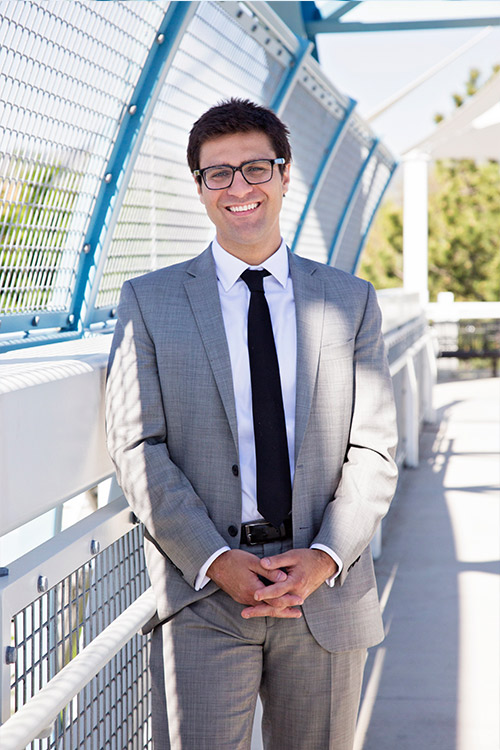 Nick Tootalian
Emphasis in family law, criminal defense and landlord tenant issues
My path to the practice of law has been unconventional. At Michigan State University I studied Media Arts and Technology. During my studies I worked in television as a cameraman for a Public, Educational, and Governmental Access Channel. For a few years after college I freelanced as a film grip, a photographer's assistant, and in my spare time I produced independent films. After some time I began feeling unfulfilled. I decided to dedicate my life to something that I could find more rewarding.
I moved from Detroit to Denver a month before orientation at the Sturm College of Law at The University of Denver. I cannot imagine moving again. Colorado has more to offer in terms of character and natural beauty than anything I have experienced. I feel gracious to be serving a community of which I am proud to be a member.
Throughout law school I focused on trial work. In court, I excel at arguing to a judge or jury, and more than that, I enjoy doing so. As a student I earned experience in criminal law as an intern for the First Judicial District Attorney's Office. While pursuing my Juris Doctor at the University of Denver, I participated on the National Trial Team, and wrote for the Sports and Entertainment Law Journal.
While my interests are focused on trial work, my passions lie with people. The legal system is complex and navigating its waters can be treacherous. For many who are facing a life-altering proceeding such as a criminal charge or a divorce, walking into court alone can be overwhelming. That is why we are here. Nothing brings me more joy than being of service, and it is what I intend to do for the duration of my life.
Above all else, I value integrity and trust. I believe these are values necessary to succeed in any endeavor and I hope this sentiment shines through to each individual I encounter.
EDUCATION:
University of Denver Sturm College of Law, Juris Doctor, 2014
Michigan State University, Bachelor of Arts with a major in Media Arts and Technology, 2009
PROFESSIONAL MEMBERSHIPS
Intern, 1st Judicial District Attorney's Office, 2013
Intern, Honorable Robert Tobias, 2012
PROFESSIONAL MEMBERSHIPS:
Colorado Bar Association
First Judicial Bar Association
VOLUNTEER WORK
Shiloh House
Denver Rescue Mission
Metro Volunteer Lawyers
The Family Tree- Women in Crisis Clinic